Retailers Continue to Face Discounting Issues for "Deathly Hallows"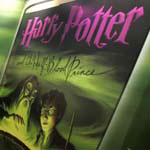 Jun 11, 2007
Uncategorized
Reuters is reporting today about the continuing dilemma various retailers are facing when setting their price for Harry Potter and the Deathly Hallows. Many of the large chains are setting low prices for the last Harry Potter book, such as Walmart and Amazon who have cut the regular price by nearly half, causing one rep of industry magazine Publishing News to exclaim: "They are literally not going to make one penny out of the book. It is stupid — just throwing money away … The world has gone mad."
Independent retailers have a very difficult time matching these prices, and some are offering alternatives to the deep discounts, as the article says:
The Chapter One Bookstore, an independent bookseller in Hamilton, Montana, is selling the book at full price and donating $7 of each sale to a library of the buyer's choice.

"The discounting — online and at the chains — does affect what you think you can sell," said Russ Lawrence, head of the American Booksellers Association and part-owner of the Chapter One Bookstore.

"Each bookseller has to decide how to deal with that."
While many of the retailers are struggling with the price of the book, many are planning large release events in July for the arrival of Harry Potter and the Deathly Hallows(find a party here at our Potterparties.com site), because so many people are anxious for the last installment in the series and especially because it is excitement over a book and not a game or movie
"We get to host a party in July for probably 200 kids who are excited about a book. And that's a real opportunity for us to promote the whole idea of reading for pleasure," Lawrence said of plans for the Chapter One Bookstore.
…
"There's people informally chatting about a book everyone is reading that normally wouldn't do that," said Mark Suchomel, president of Chicago-based Independent Publishers Group.

"For a few weeks, it's almost a national book club."
Thanks kikib,Professor Potter, and c!