EA Launches US "Order of the Phoenix" Video Game Website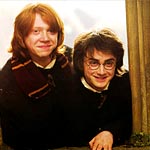 Jun 16, 2007
Uncategorized
Several weeks ago we told you that Electronic Arts, makers of the Harry Potter video games, had launched their "Harry Potter and the Order of the Phoenix" video game site. This site available for many different countries (the one we showed was the U.K.) contained a portion where you can go explore the Hogwarts Castle with Moaning Myrtle as your guide, as well as practice these spells in the Room of Requirement, as well as see screen shots and a few other things.
EA has now launched an apparently different edition of this site for those here in the US. At this link, if you click on the US flag, you are taken to a new site, similar in appearance to the UKsite, but without the option to explore the castle and learn the spells. Instead, you can see the trailers for the Wii and PS3 (available for download in our galleries) as well as a few new things such as AIM icons, a new Hermione wallpaper, and read a notice that a "Wizarding Widget," "Mini-Game," and feature on the new "Mobile" version of the OotP game are coming soon.
The Harry Potter and the Order of the Phoenix video game is due to be released later this month on June 25.