New Interview with Evanna Lynch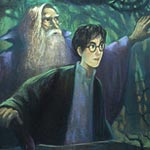 Jun 18, 2007
Uncategorized
BBC News has a new interview online with actress Evanna Lynch (Luna Lovegood), in which she gives her thoughts on the final Harry Potter book coming out, how she began reading the series in the first place and speaks a little about the upcoming Harry Potter and the Order of the Phoenix film. She is noted in the article as saying: "My favourite book has to be Order of the Phoenix, not because I'm in the film – but I suppose that helps! It's the spirit of fighting back and getting ready for Voldemort that I like."
As for the release of Harry Potter and the Deathly Hallows, Miss Lynch says that she will be in line just as any other fan would at the midnight release on July 21st. Quoteage:
This is my schedule – I get out of a summer course on Thursday night, go to the bookshop, start queuing, queue all day Friday with my biggest Harry Potter fan friends, then read all of Friday night, all of Saturday, and then Sunday is a mourning day.

I guess some people might recognise me in the queue, but everyone is just going to be so excited for the book that they won't care about me.
Thanks to Wendy for the heads up!