Happy Birthday Dan Radcliffe!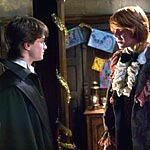 Jul 23, 2007
Posted by EdwardTLC
Uncategorized
We raise our glasses high today to Dan Radcliffe, who has turned the age of 18! Major cheers to the actor, who plays the character of Harry Potter in the films. Happy Birthday Dan, and many more to come!
Reminder: Harry Potter and the Deathly Hallows has been released. Therefore, readers should be cautious of book spoilers possibly being posted in our comments.