Happy Birthday, Evanna Lynch!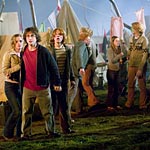 Aug 16, 2007
Posted by Melissa Anelli
Uncategorized
Everyone's favorite Luna, the actress Evanna Lynch, who makes her own radish earrings and keeps everyone on set on their Harry Potter toes, turns 16 years old today! Everyone here at Leaky wishes this beautifully sweet girl the happiest of days, and that the 16th year is as full of as much wonder and adventure as her heart desires.