PotterCast 114: Wandlore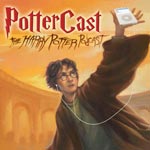 Aug 25, 2007
Uncategorized
Episode 114 of PotterCast, our Harry Potter podcast is now online for your listening pleasure! To listen, just hit the "Play" button on the right side of the page (—>), or use iTunes, or direct download.
"Wandlore"
– Spoiler Alert! READ DEATHLY HALLOWS BEFORE LISTENING!
– All you ever needed to know about wands. Well, maybe not.
– We debut Phoenix Files, our segment about the Order of the Phoenix film.
– A few questions we still have, about EVERYTHING.
RT: 1:11:07
Editor: Stede Bonnett
Direct download (32 MB).
Direct download low-bandwidth (8 MB).
Remember you don't need an iPod to listen. Listen easily on iTunes, which you can download and install here, by clicking here to listen, or you can just use the streaming Flash player at PotterCast.com or just on the right side of this page. Discussion of the PotterCast is right here. Enjoy!