French "Deathly Hallows" Cover Art Revealed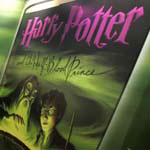 Sep 20, 2007
Uncategorized
More news comes today concerning the French edition of Harry Potter and the Deathly Hallows we've been telling you about in recent weeks. A short time ago, French publishers Gallimard revealed the long awaited cover art for their edition of the seventh book in J. K. Rowling's series. You can view this most awesome cover art by artist Jean-Claude Götting in our Image Galleries by clicking here.
This edition is scheduled to hit bookshelves October 26th.
Thanks to UHP for the heads up!