Actor Says Educators who Praise Children for Reading Harry Potter are "Idiots"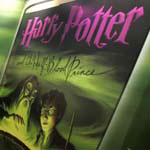 Sep 25, 2007
Uncategorized
In a recent interview, a character actor from Scotland who portrays the popular Inspector Rebus has launched an odd attack of sorts on those in the education field who favor children reading the Harry Potter novels. The Scotsman reports that actor Ken Stott (who also appeared in "The Girl in the Cafe" directed by David Yates) said the following during an interview with Radio Times:
"If we're going to make a fuss about children reading books, do it with Philip Pullman's His Dark Materials books, not JK Rowling.

"I can't believe idiot educationalists are praising children for turning up at school and reading Harry Potter."
In a small bit of irony, the Rebus series are based on works by author Ian Rankin, a longtime friend and neighbor of J.K. Rowling in Edinburgh, Scotland. Mr. Stott continued on in his interview about his future, noting "I'll remain a grumpy old man." We wish him continued success with his grumpiness!