PotterCast 70, Now Live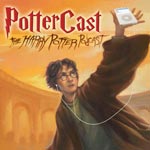 Jan 02, 2007
Uncategorized
We're a day or so late (it was a holiday, sorry), but finally our last show of 2006 AND our first show of 2007 are out, both at once! Relax, it's just one show.
Anyway, to listen, just hit the "Play" button on the right side of the page (—>), or use
iTunes, or direct download.
In this show:
-We recap the last year of PotterCast and look forward to the one ahead (and which has already started; sorry we're out late, guys!)
-An announcement: The Whomping Willows and Brian of Draco and the Malfoys will be playing together live at our live PotterCast at Phoenix Rising (May 17-20, go to www.thephoenixrises.org to register)
-Another announcement: Leaky will present two panels at Phoenix Rising as well
-Our top PotterCast moments and top HP stories of 2006
-Place your bets on the release date for book seven (not really, lawyers)
-The last piece of big HarryP otter news
-Book math = confusing = a lot of books!
-Jo's scanner
-58 shows in 2006!
-Sue loves the editors (but we all do, really)
-Who wants to direct movie seven? Everyone!
-Melis has radishes
-Dawlish Moochka on the kitty plates
-Our goals for 2007
-LeakyMug London? LeakyMug Canada? What's coming in 2007?
-See you next (or, this) year!
Running Time: 55:53
Editors: Stede Bonnett, Jeff Gregory
Direct download (25MB).
Direct download low-bandwidth (7MB).
Remember you don't need an iPod to listen. Listen easily on iTunes, which you can download and install here, by clicking here to listen, or you can just use the streaming Flash player at PotterCast.com or just on the right side of this page. Discussion of the PotterCast is right here. Enjoy!