Filch Speaks: A New Interview with Actor David Bradley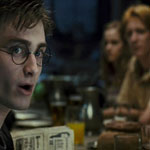 Jan 20, 2007
Uncategorized
There is a new interview online with actor David Bradley who portrays caretaker Argus Filch in the Harry Potter movies. In a rare interview with the veteran actor, David Bradley speaks about a variety of Potter related items, such as working with Alan Rickman ("he seems to have got better looking, somehow, as he's got older"), life on the set waiting to film scenes in the Great Hall ("They put a special heater in so we can read our papers and have a gossip"), even about Mrs. Norris, who is played by two cats, named Max and Alanis ("as in Alanis Morrisette", he says of the latter, with a sniff. "Bit of a poncey name for a cat isn't it? I hope she doesn't get abuse for it in the cattery.") Mr. Bradley also goes on to describe filming a scene in the upcoming Harry Potter and the Order of the Phoenix.
"In Harry Potter And The Order Of The Phoenix, Bradley forms a double act with Imelda Staunton, who plays Professor Umbridge, the Thatcherite new head of Hogwarts.

"Filch loves her because she's as strict as he is,"says Bradley. "I had a lot of fun up a 35ft ladder, clinging on with one hand and hammering proclamations into the hall wall with the other, while four crew guys shook the bottom. I'm not very good with heights."
To read more about this actor, his life on the Harry Potter set, and his career, click here. Harry Potter and the Order of the Phoenix will be in theaters on July 13.