New Luna Interview in Disney Adventures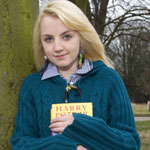 Jan 27, 2007
Uncategorized
Disney Adventures has a new issue out featuring a labeled picture of Dumbeldore's Army as well as a new interview with Evanna Lynch (Luna Lovegood). See the scan here, thanks to reader TK. The interview reads:
Did you feel nervous about auditioning? I really wanted to go, because if I didn't I never would have known, and I'd have been annoyed with myself. They had to pick someone, so why couldn't I have a go? It's like in the script, when Harry's trying to encourage some students to be in Dumbledore's Army, he says, "Think of all the great wizards in history, and if they can do it, why can't we?" It was kind of like that.
More at the link – enjoy!