New Scribbulus Calls for Essays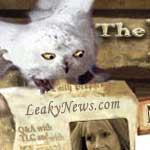 Jan 27, 2007
Uncategorized
Scribbulus, TLC's essay project, has issued a new call for papers featuring a variety of topics for the next few months. In addition to the most recent call for essays on Deathly Hallows, we can announce the following topics:
Bizarre, Wacky and Wonderful Theories – April Fools' Special (Please submit by March 1, 2007)

Do you think Fenrir Greyback leads a double life, secretly spending his days posing as a Muggle kindergarten teacher? Do you think Budgy the Budgrigar has some role to play in the final book that will be the lynchpin to the entire series? If you've got a wild and crazy theory that you can back up with canon evidence, we'd like to hear it! In honor of Fred's and George's birthdays, we'd like you to convince us of the most far-out, kooky theory you've got. All theories must be argued and backed up with canon – however little there is; submissions of "Snape is a zombie and wants to eat Harry's brains. Bye!" will not be accepted.

Love, Romance and Shipping (Please submit by April 1, 2007)

Love is an important theme in the Harry Potter books, and there are many different kinds that Rowling explores. We would like you to explore the different kinds of love relationships in the books � friendship love, familial love, romantic love, etc. Essays on shipping and particular pairings are welcome, but we would like you to explore how that relationship might or will effect the rest of the series. As with all Scribbulus essays, content should conform to the standards in the submission guidelines.

Character Analysis (Please submit by May 1, 2007)

The Harry Potter books contain a rich tapestry of characters, from bit players to the complex and multi-layered main cast. We would like you to do an in-depth examination of one or more of the characters in Rowling's world. You can examine one character alone, compare and contrast two characters, or examine a group with some common (or contrasting) characteristics.

Gender Roles (Please submit by June 1, 2007)

How do we view the males and females in Rowling's universe? How are we meant to see them? We would like you to explore the role that gender plays in the lives of the characters and in the story itself. How do men and women conform or not conform to traditional gender roles in our own world? Does one gender have more inherent power in Wizarding society over the other? Is Rowling confirming or rejecting the gender roles at play in her fictional world?
While papers on these topics are appreciated, essays on other topics may be submitted at any time. To submit your essay, mail as an attachment to scribbulus @the-leaky-cauldron.org.