Jason Isaacs Talks Deathly Hallows Movie, Book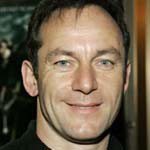 Jan 31, 2007
Uncategorized
Actor Jason Isaacs has given several new interviews while promoting his upcoming appearance in the London stage production of "The Dumb Waiter," and speaks about his role in the Harry Potter films. We have a short video clip of his appearance yesterday on the Richard and Judy show (available for download here in our galleries) where the actor mentions he will be back as Lucius Malfoy in Harry Potter and the Order of the Phoenix. He also describes again how he met with J.K. Rowling, and asked about the fate of Lucius in Deathly Hallows.
In two newspaper interviews, Jason talks about his work on the Harry Potter films, again mentioning the delight he has in working with Gary Oldman (Sirius Black) in the upcoming Order of the Phoenix, noting in This is London interview:
'I'm always so tortured about work – it's always about trying to find the truth in a character – so it's great with Harry Potter to devote my attention to devising ever-more ingenious ways of blasting Gary Oldman with a wand,' he says.

'That said, I'm not in the sixth film because Malfoy is in prison. There is no one on Earth waiting more eagerly than me for JK Rowling to publish the seventh book this summer. I'm desperate to know if I'm in it.'
The Telegraph also has a good interview with the handsome actor, where there is more about his background as his career. Jason Isaacs will be appearing on the London stage in The Dumb Waiter begining February 2. He will also be seen on cable channel BBC America starting Feb 17 in a mini-series called "The State Within"
Thanks very much to HP Sorcery and Maria for the video clip!