Harrius Potter Et Camera Secretorum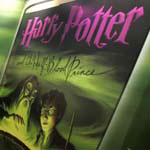 Jan 05, 2007
Uncategorized
The second installment in the Harry Potter series has now been released in Latin. Harrius Potter Et Camera Secretorum is now available (as seen in our Cauldron Shop), and The Times newspaper has a review of this new version of Chamber of Secrets. Of this translation into the ancient language, the reviewer writes:
I have no doubt that Harry Potter is a Roman boy. For his books are full of Latin and rich in Roman attitudes. Guess the motto of Harry's school, Hogwarts. Never Tease a Sleeping Dragon. The Poet Horace could not have invented a more noble Roman sentiment. He probably did in Ars Poetica.
…

They say that the author of Harry's books is Peter Needham, an emeritus Classics beak from Eton College. King Henry VI, founder of that college, has always been our friend in tight spots. May we always be saved from coarse boredom by his foundation. Peter Needham writes in the clear style of Cicero, not the difficult text-message abbrevs of Publius Cornelius Tacitus. His subject is rich in excitement, frightening with alarms, teasing with puzzles, playful with guffaws. Even School is a marvellous and magical place.