Stupefy! NECA Releases Talking Ron Weasley Action Figure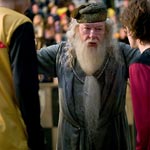 Oct 10, 2007
Uncategorized
While he doesn't mention butterflies, NECA has now updated their website with information on a new Ron Weasley action figure that talks. Noting the figure modeled after actor Rupert Grint comes with a wand, the Ron Weasley talking action figure "speaks" six phrases from the "Harry Potter and the Order of the Phoenix" film including the following:
Who are you, and what have you done with Hermione Granger?
I let her do that… It's good manners, isn't it? It was completely intentional.
Combat? What's he think we're forming some sort of wizard army?
We're not going to use magic?
Don't worry… I'll go easy on him.
Stupefy!
For more on this new action figure, click here. We will update when this new figure is available for purchase in our Cauldron Shop.