Additional "Half-Blood Prince" Filming Set for Gloucester Cathedral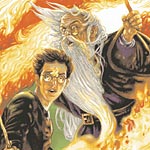 Oct 21, 2007
Uncategorized
There is additional news regarding location shoots for the upcoming Harry Potter and the Half-Blood Prince film. In addition to the filming we told about previously due to take place this week in Wiltshire, England at the village of Lacock, there will also be crews at Gloucester Cathedral. The town's local paper reports that "pupils from several local schools tipped to appear as extras in the multi million-pound production." Parts of the Cathedral appear as part of Hogwarts School, as it was used as a location set for the first two Harry Potter movies. The return to the area to film will provide local students to take part in movie six.
Now pupils from King's, Crypt and Denmark Road High School for Girls have the opportunity to audition for roles in the film.

"Quite a number of our children are going to be auditioning for Warner Bros at the end of this month," Mr Macnaughton said.

"Others are also coming from the Crypt School and Denmark Road High School for Girls."
Note: While there is no specific date published for the Gloucester filming, anyone who happens to there or at the Lacock filming for HBP, please send in your reports, photos and we will post them!
Thanks to radcakesfan and helena for the link!