Bonnie Wright Lends Voice to Disney Channel Show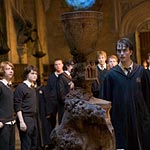 Oct 26, 2007
Uncategorized
Our Order partner BonnieWrightOnline.com let us know that Bonnie Wight is lending her voice to an episode of the Disney Channel program, "The Replacements." Bonnie, who plays Ginny Weasley in the Harry Potter films, guest stars on an episode entitled "London Calling," which is airing now. In the episode, Bonnie gives the voice to the character of 'Vanessa.' You can view this entire episode of The Replacements in two parts, here and here, courtesy of BWO. An additional 32 screen caps from the episode can also be viewedvia this link.
For those wishing to see this episode on the small screen, upcoming air dates can be found right here.
Many thanks to Jackie for mailing!