J.K. Rowling: a Living Genius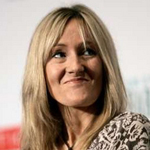 Oct 29, 2007
Uncategorized
There is another list out today and one that would make Ravenclaw proud: a list of the 100 top "Living Geniuses." Included on this list is our favorite author, J.K. Rowling who came in at number 83. The number one spot was actually shared by two men, Sir Tim Berners-Lee, who is credited with creating the world wide web, and Albert Hoffmann, the Swiss scientist who created the drug LSD. The Telegraph reports third place went to "George Soros, the American financier and philanthropist, Matt Groening, creator of The Simpsons and Nelson Mandela, the former South African president."
Creators Synectics, a global consultants firm, chose their geniuses by awarding scores out of 10 to each entrant against a number of factors: paradigm shifting; popular acclaim; intellectual power; achievement and cultural importance. The firm emailed 4,000 Britons this summer and asked them to nominate up to 10 living people who they considered geniuses.

They received back 1,100 nominations for individuals in all walks of life, more than 60 per cent of whom were either American or English. Only 60 per cent were still alive.

The panel was then charged with ranking the list in order of genius and to present a resulting shortlist of 100, who were then scored against the five factors.
Others of note on this list include playwright Harold Pinter (#31), the musician Prince (#32), singer Stevie Wonder tied with former Secretary of State Henry Kissinger and actress Meryl Streep (#49), writer Stephen King (#58) tied with iconic rocker Paul McCartney of the Beatles , and
legendary composer John Williams who wrote the scores to the first three Harry Potter films among many others is ranked at # 72.
Thanks to all who emailed!