"Goblet of Fire" Director Reflects on Lack of Clues from JKR on Outcome of Series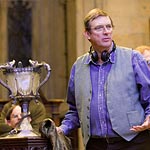 Oct 30, 2007
Uncategorized
"Harry Potter and the Goblet of Fire" director Mike Newell has given a new interview to MTV, where he reflects back on working with author J.K. Rowling, and his inability to obtain any clues from JKR regarding the outcome of the Harry Potter series. Mike Newell says Jo would not reveal any hints or tidbits about the future, such as the fate of Harry. Quotage:
No. Absolutely nothing. I asked her and she wouldn't [say a thing]. She was very funny about that' Newell recalled. "I asked her questions [and] she simply said ˜I'm not answering them. Not that. Not that. Not that.'"

"I remember we went up to see her in Edinburgh and her little daughter was in the room and she started to say cute things like, ˜Are you going to do this mummy?'" Newell continued, amused. "And [Jo] said ˜Sweetheart, why don't you go into the other room and play?'"
The director says he is happy with the way the film turned out, and says he would not change a thing, not even to add in cut storylines such as S.P.E.W.
There was something in the book that was absolutely glorious and would produce this great driven vehicle which would really hum along. It was a God given thriller. It's like ˜North by Northwest.' That's how the strong story in ˜Goblet' worked' Newell said. "I thought that was a colossal way of structuring the story, and would work really well. You would dilute that if you went into all the subplots."It would be especially diluted, Newell continues (breaking every fans' heart at once)if it were to be two movies.

"There's a whole storyline for [Hermione] that's all about free the house elf, and it was okay. But if that was going to be shunted into a second movie I couldn't see what was going to keep that second movie afloat' he said, defending his choices.

And J.K.?

"[She] was happy as a lark' Newell insisted. "She says the book is the book and the movie is the movie."