Sing a Song of Sweeney Todd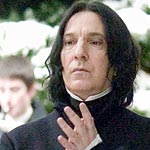 Oct 04, 2007
Uncategorized
Sing a Song of Severus Snape…well, almost! Given the keen interest in the upcoming Tim Burton film "Sweeney Todd: The Demon Barber of Fleet Street," we thought you might enjoy the brand new trailer, which you can see here.
Caution to Parents: this trailer contains some intense scenes with violence, and is not suitable for younger children.
This Sweeney Todd film is based on the classic Tony Award- winning musical from Stephen Sondheim, and stars several actors from the Harry Potter films including the brilliant Alan Rickman (Severus Snape), Helena Bonham Carter (Bellatrix Lestrange), and Timothy Spall (Peter Pettigrew). Enjoy!