David Heyman Talks Harry Potter Cast and the Future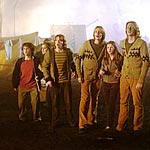 Oct 05, 2007
Uncategorized
Harry Potter producer David Heyman is the subject of a new feature in Variety. In this new interview, David Heyman discusses various cast members of the Harry Potter films, mentioning both the acclaimed adult actors he has in his films, but also the younger actors. Saying he is equally proud of all members of his cast, including those who may not always get the spotlight some of the cast does, the article states:
"David Heyman, who's produced the five "Potter" films to date and expects to finish the series by 2010, is quite aware of the budding talent populating the franchise—and he doesn't just mean Daniel Radcliffe, Emma Watson and Rupert Grint. He's just as proud of Sean Biggerstaff, Tom Felton and Devon Murray.

"The smallest part is treated with the same attention and care as the lead roles," he says. "Not just in the casting, but also the directing."
Mr. Heyman continues on to discuss the level of talent found in the developing younger actors such as Dan Radcliffe, noting he will not hold back the young actor who has been branching out in various other projects such as "Equus." "You don't put a stranglehold on an ambitious young actor who wants to stretch" he notes, also saying that the Harry Potter films provide a platform for the actors to spread their wings and develop as talented performers.
"If they become that," Heyman says, "it's because of their commitment and curiosity to develop their craft. We've given them the platform, but they're here because they're good."

…

One reason Heyman's young actors are so good is the master class that results from tyro thesps playing opposite past masters. "They're learning by doing and also by watching," acknowledges Heyman. "Dan, for instance, has talked about what he's learned from Gary Oldman. The older actors are quite generous."