'Magic Bus' Tour in France for "Deathly Hallows" Release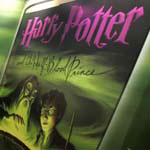 Oct 08, 2007
Uncategorized
In addition to the recent news of Gallimard, the publisher of the Harry Potter novels in France, revealing the cover art for their edition of Harry Potter and the Deathly Hallows, the publishing house recently announced a special 'Magic Bus' tour. Beginning on October 17th, the 'Magic Bus' is set to travel around the country making stops in various locations where fans can participate in magical activities, prior to the books October 26th release. Further details of this tour come from a few new posters and other recently released promotional materials. Readers interested in attending one of these events can view an overview of the tour route and stop information for the 'Magic Bus' here, courtesy of UHP, as well as a promotional poster and ticket for the event, which can be viewed here.
Complete details about this tour are set to be released soon and we will be sure to update you with this information as soon as it is announced.
Thanks to UHP for the heads up.