The Weasley Clock, a Thing of the Not Too Distant Future?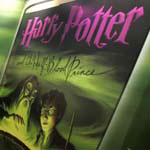 Nov 13, 2007
Uncategorized
The idea of a clock which tells not the time but the location of your family members, as the Weasley family clock does, is something that may not be exclusive to the magical world forever. Discovery News has a most interesting article online which talks of a prototype device from Microsoft researchers which would be able to keep track of the general location of your family members using their wireless cell phone network, and translate that information back to a clock at home. The device works by using a preset location of a persons work, school, or home, and when the person goes back to that area, 'the software sends a signal through the network back to the Whereabouts Clock at home. The clock interprets the signal and uses it to move an image of the person's head into the appropriate area. The image moves into "elsewhere" when the person's mobile phone is in an undesignated area.' Families would also be able to text a message to the Clock, leaving a note of their activities if they should change.
Abigail Sellen, a Microsoft researcher, is quoted in the article and says of the intent of the prototype device:
"You can buy a service on your phone to keep track of your kids. There is even talk about putting electronic chips into kids, which is not what we want to do at all… We wanted to build a device that was not too intrusive into people's lives, but at the same time recognized the importance of reassurance in a family."
The Whereabouts Clock has been tested by a number of families who, the article says, did not have issue with privacy. The article notes, however, that Microsoft has no immediate plans for such a product to come to the market.