Printing of 1.8 Million for Chinese Language Translations of "Deathly Hallows"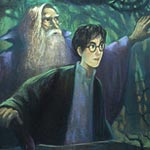 Nov 14, 2007
Uncategorized
The Boston Globe is reporting that Chinese language publishers have printed 1.8 million translated editions of the final book in author J. K. Rowling's Harry Potter series, "Harry Potter and the Deathly Hallows," since its release last month. The publishers of the book in mainland China, The People's Literature Publishing House, printed 1.1 million copies and are considering printing additional copies in the future. While in Taiwan, the Crown Culture Corp., notes "Deathly Hallows" is set to sell on par with its predecessor, "Harry Potter and the Half-Blood Prince," with the publishing company sending '700,000 copies to book stores in Taiwan and Hong Kong, a figure that already exceeds the company's total print run of 680,000 for the sixth and penultimate Harry Potter book.'
Sun Shunlin, a marketing executive from the The People's Literature Publishing House, spoke to the issue of illegal copies of the books being sold in the country and said:
"The piracy situation for the seventh Harry Potter book isn't severe. I can't say there aren't any pirated copies out there at all, but very few copies are found on the streets."
To counteract illegal copies of the book being passed off as official versions, the publishing company has put anti-piracy watermarks on the first page of each edition. He went on to say each book in the Harry Potter series has sold 'about 1.6 million copies in mainland China,' and expects similar figures for the final edition as well.
Many thanks to Patty for mailing!