MTV Feature on "Order of the Phoenix" DVD with More on Snape's Worst Memory and Hall of Prophecy Footage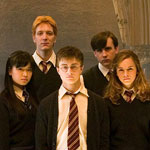 Nov 15, 2007
Uncategorized
MTV has now posted online a special feature featuring deleted scenes from the Harry Potter and the Order of the Phoenix DVD, as well as some fantastic behind the scenes footage of the Hall of Prophecy. The clip includes two new interviews with production designer Stuart Craig and OotP director David Yates, and you can see new video of the prophecy globes and more.
Also new are more details about a long hoped for scene, the Pensieve scene focusing on Lily and Snape. David Yates explains why this had to be cut from the movie:
What you won't find in the DVD's deleted scenes, however, is a shot that fans thought would have made the film because it explained Snape's behavior throughout the whole series, a scene referred to as Snape's worst memory, in which he calls a teenage Lily, Harry's mom-to-be, a Mudblood. Some of that was in the film, but it stopped short of showing Lily, who turned out to be the love of Snape's life. "We had a lovely actress play Lily," Yates said. "And we may bring her back. But by introducing Lily and the Lily/Snape plot, that back story, we complicated it too much. We had to cut it."
Finally you can see two deleted scenes, including more with a hilarious Professor Trelawney (Emma Thompson) attempting to eat dinner in the great hall during the introduction of Professor Umbridge, here. Enjoy! The Harry Potter and the Order of the Phoenix DVD will be released on December 11 here in the US.