Dan, Rupert, and Emma Talk "Half-Blood Prince" and Beyond in New Interviews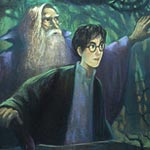 Nov 25, 2007
Uncategorized
Canada's Edmonton Sun Newspaper has two new interviews online where they sit down with Dan Radcliffe (Harry Potter), Emma Watson (Hermione Granger), and Rupert Grint (Ron Weasley), along with "Harry Potter and the Half-Blood Prince" director David Yates and its producer David Heyman, to discuss many different topics related to the sixth film. These interviews focus on the casts' thoughts and experiences on the sixth Harry Potter film, which is currently in production, and their expectations of the seventh film, "Harry Potter and the Deathly Hallows," set for release in 2010. Having grown up in these roles, Dan, Rupert, and Emma speak on this in the first of the interviews, which go into detail about acting, their passion for it, and their future prospects. Director David Yates begins this article simply by saying the casting of the young trio is "a remarkable thing."
Harry Potter film producer David Heyman gives much of the credit to Chris Columbus, who chose and directed the young actors in the first two films "Harry Potter and the Sorcerer's Stone" and "Harry Potter and the Chamber of Secrets." He says:
"Chris Columbus deserves huge credit in casting who he cast… They were obviously not the only choices he had. These were the choices he made and I am forever grateful to him for that."
Speaking to the subject of making the "Harry Potter" films with a sense of professionalism and dedication, even at a young age, Dan Radcliffe is quoted as saying:
"I don't think the franchise, in a way, needs any justification because it is such a leviathan of a thing anyway. Things don't get that big without merit.

"But, I suppose, it (extra work on the DVDs) is almost to prove to people that we are, in fact, taking this very seriously. More seriously than people would probably assume. I took it very seriously when I was 11 and (growing up in the Harry Potter role) I've taken it more and more seriously.

"So, to me, it's just about letting people know that I'm incredibly serious and passionate about this – this series of films – and how much they mean to me. If you've been involved in something for more than seven years now, you want to be able to talk about it articulately and explain why you love it, explain why you loved being involved in it so much."
The Harry Potter films are not the only things on the young actor's minds, as Emma Watson also relates in this article, working on future projects will determine whether this is the true career path for her. She says of this decision:
"I did a film for the BBC, called Ballet Shoes, in the summer. Having an experience outside of Harry Potter really helped me. I think it convinced me that this is where I am meant to be and this is what I'm meant to be doing: That I do want to be an actress.

"But I think I needed to have an experience outside of Harry Potter because, in a way, I was really plucked out of obscurity and given this role. I mean, I really wanted it but it never felt like a decision that I made. It just happened to me. I felt that I won the lottery. So I've always kind of slightly questioned it."
Dan, Rupert, and Emma also spend more time talking of the "Half-Blood Prince" film in the second interview, where Dan comments on the 'tonal shift from the brooding atmosphere of The Order of the Phoenix' by noting his his personal preference for the "morbid" undertones verses the lighter aspects of the story. He explains this by saying:
"I think the script's great and I think it's going to be a really great film. But I'm just one of those people that, in what I'm doing, I always lean toward the dark side and I really enjoy doing the dark stuff.

"I know Emma and Rupert really, really like the lighter stories and all that. And Rupert particularly is really going to have a field day on this, because he's got fantastic comic timing and he'll be able to use all of that to great effect on this film with his relationship with Lavender Brown.

"(But) I'm actually going to miss doing all the morbid stuff, I think."
Dan describes his eagerness for the seventh film by calling it "the one last hurrah, that film. That's going to be great. I really am very, very excited about the whole thing. It's going to be epic, I hope." While Rupert Grint speaks to the new production by noting, like each of the films, its "own sort of atmosphere," and goes on to say:
"It's got sort of a dark undertone to it because Voldemort is back and that is quite a scary time for them. But there are some really cool bits in it. Ron gets a girlfriend in it, so that's going to be quite cool."
Continuing on this subject of romance in the film, producer David Heyman is also quoted as saying of the balancing of these emotions:
"It's much more comedy and the awkwardness of romance. And the romance goes beyond Harry into Hermione and Ron and other characters. I also think it's about characters growing apart as well as realizing the importance of one another."
The article concludes to describe a certain 'awkward reference' to the wand of Albus Dumbledore in an original draft of the "Half-Blood Prince" script, which had to be revised in light of the publication of author J. K. Rowling's seventh novel "Harry Potter and the Deathly Hallows" this past July. Heyman says of this revision: "For obvious reasons (if you've read the seventh book) it had to be changed."
"Harry Potter and the Half-Blood Prince" will be released in theaters November 2008.
Many thanks to redcakesfan and all who mailed!