Radcliffe on HBP : Gambon "Camping it Up"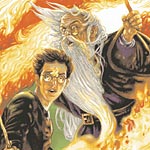 Nov 03, 2007
Uncategorized
Previously we reported that actor Dan Radcliffe would be a guest on the UK television program "Parkinson" this weekend. That interview was taped earlier this week, and now reports such as one from the Mirror newspaper in the UK contains a quote from the Harry Potter actor. Dan is addressing the ongoing filming for "Harry Potter and the Half-Blood Prince," and apparently the topic of Professor Dumbledore and the revelation of the character being gay has been met with great delight by actor Michael Gambon:>
"Well, he's been camping it up around the set like nobody's business. There was a scene when Michael had to come in and tell someone how much he loved knitting patterns. He just adored saying that."
However, Digital Spy has more of the quote, indicating that the actor is merely doing this OFF SET, and this is not to be too much of a factor in the films.
"Not in the film, though we did actually film a scene the other day, and I would like emphasise at this point that the script was written before this revelation and I don't think Steve Kloves had any prior knowledge, but there was a scene the other day when Michael had to come in and tell another character how much he loved knitting patterns! Which he just adored saying that."
Please note we have no idea of the whole context of this quote, as Parkinson is due to be broadcast tonight on ITV. Anyone who can capture this video, please send it in!