J.K. Rowling: Among Those Considered for Time's Person of the Year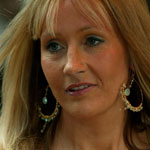 Nov 08, 2007
Uncategorized
Time Magazine is once again considering who they will name as their Person of the Year, and have now launched a new online poll for readers to vote. Among those eligible for consideration this year is Harry Potter author J.K. Rowling. The magazine writes:
Pro: Finished a seven-book epic that will be read by children (and lots of adults) for generations to come. Slowly creeping up on Agatha Christie as the most read author not named Shakespeare. Con: Seventh book wasn't her best, and hard to argue she was the most important person of 2007."
At the time of this post, former US Vice-President and recent Nobel Peace Prize winner Al Gore is leading the voting, with US Senator Barack Obama and Apple's Steve Job next in line.