In Depth Profile and Interview with Emma Watson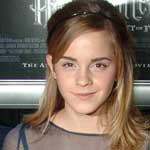 Dec 15, 2007
Uncategorized
Actress Emma Watson is profiled in a new article online from the Telegraph. This lengthy piece goes into much detail about her young life, her desire to become "a proper actress," and her new project, the upcoming film "Ballet Shoes." She first speaks of this new role and of its differences from her role as Hermione Granger in the Harry Potter films, as well as her own personal connections to this new character:
'It's the first time I've been anything but Hermione,' she says, fiddling with the cushions. 'Pauline is headstrong, so in that way she is quite like Hermione, but she is not academic. In fact, she actually reminds me of myself as a child, much more than Hermione does. Pauline is utterly obsessed with being an actress and I was just like that when I was younger. I dreamt of it. I practised speeches in front of mirrors. Whenever there was a part at school, I went for it. I was probably a bit of a show-off in the sense that any chance to get up and be seen, I did it.' She sounds like a nightmare. 'I was such a drama queen,' she says, blushing a bit. 'I used to wail and moan and cry, and little things were blown up into being big things. I don't know how my parents stood it, really.' She says she isn't like that at all now. 'I've grown up a bit,' she says. 'I've had to.'
Acting, however, is not the only avenue Miss Watson is perusing. She goes on to detail her plans to apply at Cambridge to 'read English and philosophy,' by saying: "I feel it's terribly important to continue with my education, in case acting doesn't work out for me." The interview goes on to discuss her life as a teenager and an actress, along with life she has lead being both. The topics of seeing her family, relationships, and fashion are also mentioned in this extended look at her career. The profile concludes with Emma's thoughts on the world shown in "Ballet Shoes," one which she feels 'captivates everyone it touches.' Asked about the relevance of this story, which looks at the aftermath of war, and whether this generation will be interested, she says:
'Yes, I still think it's relevant,' she says enthusiastically. 'Everyone loves that world, don't they? The backstage world of what actually goes on during the rehearsals of a play or the making of a film. I thought it would be so glamorous, so exciting.' And isn't it? Emma Watson looks at me in surprise. 'Yes,' she says, eyes open wide, 'of course.'
"Ballet Shoes" will be broadcast December 26 on BBC1 at 8:30pm.