PotterCast 130: The One with J.K. Rowling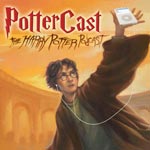 Dec 18, 2007
Uncategorized

And it's here! J.K. Rowling is on PotterCast, our Harry Potter podcast! Aggggh! This is part one of her appearance; the rest will be up next week. We'll have a transcript up as soon as we can.
To listen, subscribe via iTunes (subscribers, hit "Update this Podcast" if you don't see it right away), or grab it via direct download, or just hit the "Play" button on the right side of the page (—>.
Show info:
J.K. Rowling comes to PotterCast! This is just part one – make sure to tune in next week for part two!
In this landmark show we talk about:
-The morals of Beedle the Bard
-Who was right about Horcri?
-Who made the first Horcrux?
-Creating a Horcrux vs. splitting the atom
-Will Jo tell us how to create a Horcrux?
-The things that made her editor look like she wanted to vomit
-The Scottish Book and its potential date of publication
-Baby pictures for the Dawlish entry
-Dumbledore and homosexuality in the wizarding world
-The recklessness and blindness that comes with love
-Madam Hooch fanfic
-Is Harry kinda not really a Horcrux?
-Was Harry the not-so-much-a Horcrux damaged in CoS??
-The pain in Harry's scar explained in more detail
-Dumbledore's "in essence divided" spell
-Neville. Just Neville. The Boy it Could Have Been.
-Matthew Lewis as Cormac McLaggen?
-Thrice defying the Dark Lord explained
-The missing 24 hours, and how Dumbledore found out what happened in Godric's Hollow
-"You either get to be right, or you get more stories!"
-"I've got a bit of a problem with this myself…maybe they've got a point."
-How the Scottish Book would be laid out, and more info about what will be in it
-"It's about doing the absolute definitive, giving people everything guide."
-Hannah Abbott's backstory: Muggleborn or pureblood? And running the Leaky Cauldron
-The Web site and the WOMBATs – are there more WOMBATs? The secret agenda that got book seven info online.
-Jo: "I win!"
-The Trio: Did they graduate Hogwarts?
-Hogwarts graduation traditions, and Jo's feelings on not writing a ceremony
Don't forget to tune in next week!
RT: 49:10
Edited by Superhero Stede Bonnett
With special thanks to Rosi for being our Brit voice, and Fiddy for putting up with all manner of craziness.
Leaky theme song by Brad Mehlenbacher of Draco and the Malfoys
Podcast Alley
Digg
Terminus 2008
Direct download (22 MB).
Direct download low-bandwidth (6 MB).
Remember you don't need an iPod to listen. Listen easily on iTunes, which you can download and install here, by clicking here to listen, or you can just use the streaming Flash player at PotterCast.com or just on the right side of this page. Discussion of the PotterCast is right here. Enjoy!