Katie Leung Joins "Poirot" Cast In Upcoming ITV1 Program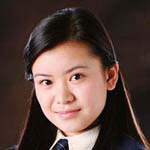 Dec 02, 2007
Uncategorized
Actress Katie Leung is taking on a new role in an episode of the long running British television drama "Poirot." The Sunday Mail is reporting that Miss Leung is set to film an episode entitled "Cat Amongst The Pigeons," an adaptation of one of Agatha Christie's 'Poirot' mystery novels. According to the article, Katie will be playing 'Hsui Tai, a pupil at a private all-girls school who helps the legendary sleuth solve a murder at the school and the mystery of a kidnapped Middle Eastern princess' for the drama set to be broadcast on ITV1. A spokesperson for the program said of the choice to cast Katie in the role:
"We're absolutely delighted to have Katie on board. She's a very talented actress and a great addition to the cast. She helps Poirot spot a couple of clues which let him piece it all together."
This is the first role for Katie since her part in "Harry Potter and the Order of the Phoenix" and "Harry Potter and the Goblet of Fire" as the character of Cho Chang. The "Cat Amongst The Pigeons" is set to be broadcast next year.
Thanks to Adrian for mailing!