Radcliffe, Watson, Grint Forbes Top-Earning Young Superstars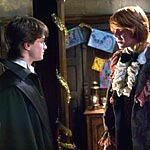 Dec 04, 2007
Uncategorized
Forbes magazine has yet another list, this time of the Top-Earning Young Superstars. Included on this list are the trio of Dan Radcliffe, Emma Watson, and Rupert Grint, with Dan Radcliffe taking the number one spot for actors under the age of 25. The magazine writes:
"The top-earning actor on the list, Harry Potter alter-ego Daniel Radcliffe, 18, earned $15 million. That's more than performers twice his age, like Jennifer Aniston and Sandra Bullock, who earned $14 million and $10 million, respectively, made over the same period. The Potter franchise catapulted Radcliffe's co-stars Emma Watson and Rupert Grint to the list with $4 million apiece. This summer's fifth installment, Harry Potter and the Order of the Phoenix, was the second highest-grossing film of the year (edged out by Pirates of the Caribbean: At World's End), raking in $938 million worldwide. The trio are already filming the follow-up, Half-Blood Prince."
On the overall list, Dan Radcliffe (Harry Potter) was listed at number six , Emma Watson (Hermione Granger) was ranked at the 15th spot, and Rupert Grint, who plays Ron Weasley was listed at number 16, with the top spot going to NBA star LeBron James.