New "Order of the Phoenix" DVD Video Podcast, DVD Game Preview and More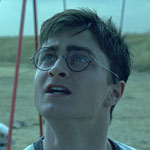 Dec 06, 2007
Uncategorized
We have a real treat for you tonight, as Warner Bros has sent us a whole host of new videos and more as part of the release of the Harry Potter and the Order of the Phoenix DVD on December 11. First up: a preview of the new Harry Potter DVD Interactive game that is due to be released on December 11 along with the high definition editions of first four Harry Potter films and the Phoenix DVD. Voiced by Jim Dale, who narrates the US editions of the Harry Potter audiobooks, you can access this game demo, here.
Also, there is a new video podcast, which previews the Harry Potter and the Order of the Phoenix DVD which will be released in High Definition and standard DVD formats here in North America next week. In this video you can see some very cool new glimpses of the models used for the Ministry of Magic, as well as sketches and a fascinating model of the village of Hogsmeade.
Finally, WB also sent us a fair number of new video clips from the OotP DVD. Of note are a behind the scenes feature and new interview with actor Ralph Fiennes as he filmed the battle of Voldemort vs Dumbledore in the Ministry, and a new interview with Tom Felton (Draco Malfoy) as he discusses the character of Professor Umbridge (Imelda Staunton). Other cool new footage includes a rare look at the technology used in creating Grawp, and other behind the scenes clips. Finally, there are many many scenes from the Harry Potter and the Order of the Phoenix film, along with new interviews with Dan Radcliffe (Harry Potter), Rupert Grint (Ron Weasley), and Emma Watson (Hermione Granger) as well as the director David Yates, and producers David Heyman, David Barron and many more from the crew. Right now you can view these clips (listed below) in Quicktime, and we will update you once these are in our galleries as well. Enjoy Enjoy!
Scenes from "Order of the Phoenix"
Additional Interviews/Deleted Scenes Clips