Dan Radcliffe: JKR says Dumbledore in "Deathly Hallows" was "Giving Me a lot of Trouble"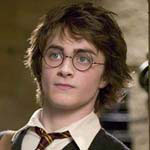 Feb 10, 2007
Uncategorized
A second in depth interview with actor Dan Radcliffe is now online tonight, where the young actor discusses his role as Harry Potter as well as his performance in the upcoming production of "Equus.There are also some very interesting comments on a conversation Dan recounts that he had with author J.K.Rowling during a recent set visit while filming Harry Potter and the Order of the Phoenix, where the subject of writing Harry Potter and the Deathly Hallows was briefly discussed, and our beloved late Hogwarts Headmaster was mentioned. Full quotage from this new interview in The Observer is as follows:
"What does he think will happen in the final book? Will he die?

'I think I will. I sort of hope I will, really. I think that's really the only way Jo can end it, if Harry and Voldemort… Maybe one can only die if the other one dies. I don't know that for sure. But I'm quite looking forward to doing a death scene, if I get that opportunity.'

But honestly, he says, he has no idea of how the series will end. Nor does he want to. He's a Potter fan, like everyone else. 'Jo came down to the set at one point and I said, "Oh hello, why are you here today?" And she said, "Oh I just needed a break from the book – Dumbledore's giving me a lot of trouble." And I said, "But isn't he dead?" And she said, "Well, yeah, but it's more complex …" I was like, [briskly] "OK, I'm not gonna ask anything else!"'
This lengthy interview also covers subjects such as his career, future films, a tad on the upcoming OotP film, and Dan also says Jo will be coming to see him in the production of "Equus," which begins previews next week in London.
"'She's coming to see it!' he says, beaming. 'She's very excited about it, which is great! I think it will be weird for her because – I'm not sure how true it is – someone said that when she first saw my screen test she said something about it being like she'd found the son she never had. So it's going to be very weird for her to see her long-lost son blind horses! I look forward to hearing what she thinks.'