Scholastic Updates with New "Deathly Hallows" Release Date Poster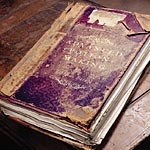 Feb 12, 2007
Uncategorized
Scholastic, the US publishers of the Harry Potter novels, has updated their site with a new "Harry Potter and the Deathly Hallows" poster that you can download and print out at home. The poster features the current black and white placeholder art for the book, with the title and release date on it, as well as color photos of the previous six novels. To print (pdf) click here.
As a reminder of what we told you previously,UK Potter publishers Bloomsbury also have a poster for you to print out as well, featuring their blue placeholder art for "Deathly Hallows," which you may do via this link (pdf).
Harry Potter and the Deathly Hallows will be released on July 21, 2007.