Leaky Widgets in the News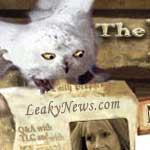 Feb 16, 2007
Uncategorized
Thanks to the TLC readers who let us know that our new "Harry Potter and the Deathly Hallows" release date countdown Widgets have made the news. As seen in on the front page of the Tempo section in the Chicago Tribune today (scans here in our galleries), the article refers to our very cool countdown clock designed by John Noe and Chris Chang. If you want to download the "Deathly Hallows" widget to help you pass the time as we wait for Book Seven, the directions to do so may be found via this link.
Thanks to everyone who mailed!
Note: Before you ask, yes yes we are working on that desktop version as well.