Potter Actors Doodle for Charity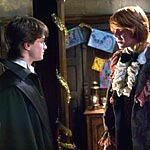 Feb 16, 2007
Uncategorized
Oliver Phelps, George Weasley in the Harry Potter films, along with actress Imelda Staunton, Defense Against the Dark Arts teacher Dolores Umbridge in "The Order of the Phoenix," are joining 600 other celebrities in doodling for charity. Phelps and Staunton's doodles will be auctioned off on eBay starting Friday, February 23rd in support of Epilepsy Action and The Neurofibromatosis Association for National Doodle Day. You can vote for what you think is the best celebrity doodle via TXT message on your cell phone; full details are available on the site.
Thanks to RupertGrint.net for the tip!
Note from Melissa: Please everyone join me in welcoming Edward, the newest addition to our crack Leaky News team – this is his first of what we're sure will be many, many, many posts. Welcome, Edward, we are so happy to have you!