High Def DVD Edition of GoF: "Magical"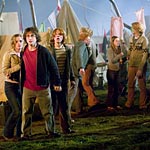 Feb 18, 2007
Uncategorized
A shining new review about the upcoming High Definition DVD of Harry Potter and the Goblet of Fire was released today commenting on the enhanced High Def experience. As we previously reported, WB is releasing High Def editions of the Harry Potter films to date sometime in 2007, but in an article today, the superior graphics, imagery and sound mixing found on the HD GoF DVD, are said to be "magical." The review also states:
Within a few minutes the Quidditch world cup launches us into a Computer Graphics feast that is brought to life in a way that was unimaginable with standard dvd. The new format is perfectly suited to CG set pieces on a large scale.

The Goblet of Fire is possibly one of the best HD transfers to date, with clean crisp pictures looking stunning and at times almost 3D like in quality. Warner have made a real effort to provide all of their High Definition release with Dolby TrueHD which adds to the superb mix, especially when pushed through a decent quality amp. The whole experience is an assault on the senses that will leave you demanding more of the same.
These DVDs contain many of the features that were found on the Two-Disc Special Edition of Harry Potter and the Goblet of Fire, such as behind the scenes looks at the three Tri-Wizard Cup tasks, behind the scenes at the Ball, and interviews with the Trio about their experience in making the film. The Two-Disc Special Edition of GoF is still available for purchase, along with the rest of the film collection, through our own Cauldron Shop.