New Valentine's Day Contest; Daily Prophet Winners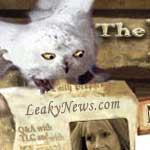 Feb 04, 2007
Uncategorized
We've got a brand-new love-themed Valentine's Day Contest for you – about what an HP character of your choice might smell upon encountering the Amortentia potion. Full instructions and rules are here; essays have a limit of 150 words, a PG-13 maximum rating, and a deadline of Feb. 15.
The winners of our previous competition, our Daily Prophet contest, are as follows:
First Place: You-Know-Who Defeated by Baby – Verin
Second Place: You-Know-Who Vanishes – Leda
Third Place: The Dark Lord Defeated – Snitch2006
Honourable Mention: The Demise of the Dark Lord – mem
Congratulations to all and thanks to everyone who participated!