Happy Birthday Kristin!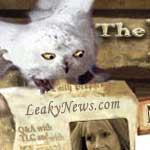 Mar 19, 2007
Uncategorized
If you've written to us, you've probably heard from her. She's the most tactful penpal around, that Kristin Brown, and when Leaky mail beckons she has gotten quite the workout. She's answered about WOMBATs precisely 211 times to date (You. Can't. Take. The. Test, Guys!). She has broken countless hearts of those who write Leaky seeking Daniel Radcliffe's or Emma Watson's e-mail address. She has patiently explained – innumerable times – that no, book seven was never due to be released on 7/7//07, and she has pointed a ludicrous amount of people a ludicrous amount of directions all over Leaky and the Web, helping them find whatever arcane piece of Potterania they were looking for.
And now it's her birthday.
Happy Birthday, Kristin! Our correspondents need you badly, and so do we!