"Order of the Phoenix" Video Game Due Out Week Before Movie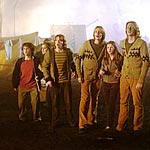 Mar 19, 2007
Uncategorized
Over the weekend in London, EA previewed several of their upcoming video games and the BBC reports the new Harry Potter and the Order of the Phoenix video game "was on schedule for release a week before the film." In the article, a rep from EA describes some of the cool new features and events we will see in this game, including more freedom to explore Hogwarts, and what promises to be a good "boss level fights" between the magical world's two most powerful wizards, Albus Dumbledore and Lord Voldemort.
"You're going to see all of Hogwarts based on the blueprints from the movie. It's all there and it streams without loading," he said. "We're showing some places that have never been seen before like Grimmauld Place where Sirius Black lives."

The new game features boss level fights between Dumbledore and Voldemort, who Mr Roberts described as a "scary dude that makes the Emperor (from Star Wars) look like a wussy".

The game is designed to give players the freedom to do whatever they want, with no prescribed way to complete the game. "We've got a school full of kids – it's a living breathing world the player can mooch around in – they're not absolutely forced to play this level, then this level, then this level," said Mr Roberts.

"The game is completely free-form: Harry can go to class, play gobstones or wizard chess, all of the things from the film."
You can see some screenshots from the upcoming game here, and read our earlier report from a visit to EA, here. The film, Harry Potter and the Order of the Phoenix, is due to be released in theaters July 13.
UPDATE: Thanks to HPANA we now know of some additional screencaps here