Dan Radcliffe to Appear on Jonathan Ross Show this Friday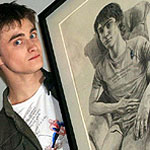 Mar 21, 2007
Uncategorized
Scores of readers let us know actor Dan Radcliffe is to appear on the Friday Night with Jonathan Ross show which airs March 23 starting at 10:40 pm, and is broadcast in the UK on BBC One. The information on the program says that:
"The new season kicks off with Daniel Radcliffe making a return to the Ross sofa for an exclusive chat about how he has gone from Harry Potter to sell-out West End star in the acclaimed revival of Peter Shaffer's Equus."
UPDATE: In their daily press releases the BBC has a quote from Dan, where he addresses his appearance in the final two Harry Potter films.
"I'm going to do all seven, I was 11 at the start and I'll be 20 by the end… I genuinely think these films have got better and better."
Anyone who can get video or screencaps please send them in! Thanks to all who mailed!