PotterCast 82: 784 Reasons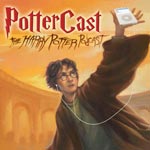 Mar 25, 2007
Uncategorized
Starry skies, traveling men, PJs and ever-present Horcruxes make up this week's PotterCast, our Harry Potter podcast, which is now available. To listen, just hit the "Play" button on the right side of the page (—>), or use iTunes, or direct download. In the show this week:
-This week's Canon Conundrums: What role will the Centaurs play in book seven?
-A mailbag full of your e-mailed questions, and some of the most-often asked things around Leaky, like:
How do you take the WOMBAT? (YOU CAN'T, OK?!)
-Why are Centaurs part of the Statue of Magical Brethren?
-"What? (Surprise) You're alive!"
-John's off this week, but we struggle on without him!
-Scribby 5: The real identity of Eileen Prince, the next issue, and the shipping call!
-Phoenix Rises approaches!
-Craziest summer ever approaches, too!
-Sue's Hufflepuff PJ
-Anonymous COffee Donor: You made this podcast possible.
-We know, Slughorn was head of house. Thank you.
Editors:
Mailbag – Stede Bonnet
Canon Conundrums – Jeff Gregory
Scribby 5 – Matt Keliher
Intro, NewsTalk, Wrapup and final mix – Mike Neighbors
Running Time: 1:17:00
Links:
HarryPotterSeven.com
Wizard Rock EP of the Month Club
Phoenix Rising
Podcast Alley
Digg
Direct download (37 MB).
Direct download low-bandwidth (9 MB).
Remember you don't need an iPod to listen. Listen easily on iTunes, which you can download and install here, by clicking here to listen, or you can just use the streaming Flash player at PotterCast.com or just on the right side of this page. Discussion of the PotterCast is right here. Enjoy!