Entertainment Weekly to Feature Trio on Three Different Covers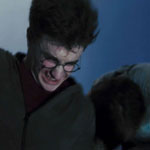 Mar 29, 2007
Uncategorized
Despite all the excitement of the new book covers, we do have other news today involving the Harry Potter films. TLC reader Christina let us know that the new issue of Entertainment Weekly will focus on the Harry Potter movies and books, and have three different covers featuring actors from the films. The "Pop Culture" issue of the magazine will be available with three different covers of the main trio, one for Dan Radcliffe (Harry Potter), Rupert Grint (Ron Weasley), and Emma Watson (Hermione Granger). According to The Insider:
The new issue includes a Harry Potter Pop Culture Quiz with 50 questions that will challenge even faithful muggles, and a six-page Potter feature revealing an exclusive peek at the new movie's main players. Teasers about J.K. ROWLING's seventh and final book, Harry Potter and the Deathly Hallows, are also inside.
This issue of Entertainment Weekly is due out Friday. Anyone with scans, please send them in!
Thanks much Christina!