More on Independent Bookstores and the Selling of "Deathly Hallows"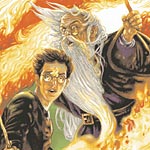 Mar 03, 2007
Uncategorized
There are several articles now online highlighting again the challenges independent booksellers are facing in regards to pricing for Harry Potter and the Deathly Hallows. As we reported previously some retailers in the UK were not going to stock the last Harry Potter book due to concerns about being unable to compete and match the discounting larger retailers can offer. Publishers Weekly reports that while all the independent sellers they contacted here in the States were going to stock the book, there were still concerns about the pricing of the book.
"We're haven't quite figured out what we're going to do," said Josie Leavitt, co-owner of the Flying Pig Bookstore in Shelburne, Vt. "We're probably going to treat it like an adult hardcover and give it a 25% discount. No kid can afford $35."

Several booksellers will offer discounts in the 20% to 25% range on pre-orders. And many booksellers said they will order cautiously. "We'll order carefully, and if we run out we'll end up going to Sam's to restock," said Ellen Scott, children's book buyer at the Bookworm in Omaha, Neb. "It's cheaper there than ordering from Scholastic. That's what we did last time."
In a related piece, The Guardian reports how several UK independent sellers are trying a different strategy this time, and planning to win customers with loyalty programs and incentives.
"At the vanguard of the battle for the boy wizard's fans is Dulwich Books, an independent in south London which is hoping to win customers with a Harry Potter loyalty scheme. Every purchase of children's books worth £10 or more before June will win earn a point and when the card is full with 10 points, customers will be entitled to a free copy of the new Harry Potter.

"We believe in rewarding our loyal customers as well as promoting other children's books," explained Sheila O'Reilly, the owner of Dulwich Books. "The ultimate reward for children who read will be a free copy of Harry Potter and the Deathly Hallows. Independent bookselling is not about competing on discount; we must offer more than the chains and supermarkets."
Thanks Sarah!