Happy Birthday, Robbie Coltrane!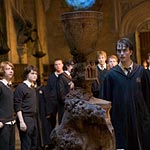 Mar 30, 2007
Uncategorized
Many birthday wishes go out to actor Robbie Coltrane (Rubeus Hagrid) who celebrates his 57th birthday today!
Also during this very busy week of Potter, Brendan Gleeson (Professor 'Mad­Eye' Moody) celebrated his 52nd birthday on Thursday. Happy (belated) birthday Brendan!
Double the cheers for Robbie and Brendan!