Scans from New Movie Magic Magazine Issue on "Order of the Phoenix"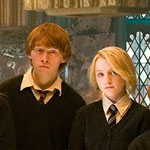 Mar 31, 2007
Uncategorized
Megan from Magical-Menagerie let us know that she now has scans from the new Life Story Movie Magic magazine issue on the upcoming Harry Potter and the Order of the Phoenix movie. The magazine has interviews with Dan Radcliffe, Rupert Grint and Emma Watson, as well as features on the cast of the film, an article about the Harry Potter fandom, and much more. You can see all whopping 43 pages of this magazine here at her site.
UPDATE: At the request of the editor of the magazine, most of the images were removed from the site.
This issue of Movie Magazine is now available on newsstands.
Thanks very much Megan!