J.K. Rowling, Scotland Woman of Influence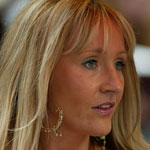 Mar 06, 2007
Uncategorized
Harry Potter author J.K. Rowling has been selected as one of the finalists for the NCH Scotland Women of Influence Awards. Jo is one of five women nominated "who have worked hard to improve the lifestyles and education of children." The winner will be announced at a luncheon this Sunday, March 11 in Glasgow, Scotland. The Evening Times reports:
Lord Advocate Eilish Angiolini, a former winner of the title, said: "These awards mark the significant contribution women from diverse communities make to our national life.

"In our mothers' and grandmothers' time women received very little recognition.Today, it is a very different story.The awards also highlight the vital work NCH does to support Scotland's children and young people and raise an incredible amount of money to support that work."
Congratulations Jo!