Leaky's Post-Potter Plans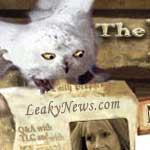 Apr 01, 2007
Uncategorized
Our dear readers:
Ever since the announcement of the publication of Harry Potter and the Deathly Hallows, we at Leaky have been besieged with questions about life after the last Potter novel. Will we continue to provide news updates about the Potter world? Will we continue to produce podcasts when there are no more Canon Conundrums to canoodle? Will we still party like it's 1999?
We told you over and over that we'd be around after book seven, reporting on the series until well beyond last call, until they had to pry us away from our butterbeers and out of our fireside nooks.
That is, until the cover art was released.
Just take a look at it. Curtains seem to be closing over the whole saga, the way they opened on the first cover. Dawn seems to be breaking on the wizarding world, Harry is kicking Voldy's overgrown butt, and a peaceful sense of ending, of wholeness, of finality, falls over the whole scene. We couldn't see this and not take note. And we've come to a difficult decision, but one that had to be made eventually. We figured now is as good a time as any to tell you.
Sometime after the furor of book seven has died down, Leaky will cease to be a Harry Potter Web site. We will probably reformat as a general entertainment news portal – for all sorts of LeakyNews, be it television, movie, play, etc.
For now, we will enjoy these last, precious moments we have together. Let's make sure these final days count. Thanks for everything, and for being such a huge part of all our lives for so long.
It's been a fantastic ride, guys. We will always be grateful for the time we spent with all of you, from our first collaborative effort (our 2002 charity drive) to today's flurry of live podcasts, conventions, events, rock shows, movie premieres, and, lest we forget, book releases. You have made being a Harry Potter fan thrilling.
But there comes a time to move on. When those curtains swish down over the last act, we have to honor what that means. It means those of us who have made this series such an important part of our lives must recognize its natural end, and ride into the sunset while Harry is doing the same.
We will miss you all, and we hope to see you again for another great adventure.
Love from,
The Staff of The Leaky Cauldron