New Images from "Order of the Phoenix" Video Game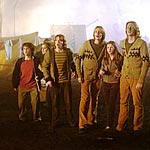 Apr 11, 2007
Uncategorized
There are a few more new images from the upcoming Harry Potter and the Order of the Phoenix video game now online. Courtesy of Jeux-france.com you can now see some new images from the game here in our galleries, including one still of Professor Dumbledore fighting Lord Voldemort in the Ministry of Magic.
Update:Thanks to Matt from HarryPotterFanZone who let us know five more images from the gameboy advance platform of the game have now surfaced via the Australian EA site. You can see all of these many new OotP Video game images that have been released to date, here in our galleries.
Also thanks to UHP for letting us know what appears to be the cover to the game has now appeared on the French edition of the Electronic Arts website, here. This image appears to show members of the DA including Harry, Ginny, Fred, George, Ron, Cho, Hermione, Neville, and Luna.
The Harry Potter and the Order of the Phoenix video game is due to be released on the Nintendo Wii, Playstation 3, Xbox 360, PlayStation2, PSP, Nintendo DS, Game Boy Advance, and Windows PC platform, and is available for pre-order via our Cauldron Shop. Fans can expect to see this game on store shelves the week before the release of the film on July 13.
Thanks Pat!